How do you sync your G Suite account with Outlook?
To be able to sync your
G Suite
account
with the Microsoft Outlook email client, you must have a license for any
G Suite
plan
.
For synchronizing data between
G Suite
GSSMO - G Suite Sync for Microsoft Outlook is
and Microsoft Outlook.
The GSSMO tool uses HTTPS to connect to Google services that use the tool's proprietary Gmail synchronization protocol.
This type of connection ensures stable data synchronization and also increases their security in everyday use.
If you value the security of data stored on local devices, including access data, give your device even better protection.
Take advantage of the offer
anti-virus software
and
anti-malware
in home.pl.
When you first set up
G Suite
with Microsoft Outlook, data will be synchronized.
You can use an existing profile (and account) in Microsoft Outlook or create a new, dedicated
G Suite service
.
You can choose this setting during one of the synchronization setup steps.
How to sync G Suite account with Microsoft Outlook?
To sync your
G Suite
account
with Microsoft Outlook:
After the download completes, run the installation file.

Check if your computer is connected to the Internet, because there will be a series of automatic downloads.

After completing the installation process, you will be required to log in to your Google account.

You should enter your

G Suite

email address

and click

Continue

.

Log in to your

G Suite

account with your email address, enter your password in the next step.

After successfully logging in, you'll be asked to give

G Suite

permission to manage your email, as well as other tasks, including contact and calendar management.

Accept permissions to ensure proper synchronization.

The next step is to choose or create an account profile.

Select the option:

Import data from an existing profile

+ optional data to import.

The synchronizer will link your Microsoft Outlook account (entire profile) to your

G Suite

account

. If you want to separate support for your

G Suite

account

from other accounts (created as part of the Outlook profile), select

Create Profile

.

This will create a new profile in Outlook.

Click:

Create Profile

to create a new independent profile in Outlook.

It will give you full control over your account and will separate the data it contains from existing accounts.

Start Microsoft Outlook or wait for it to start automatically.

If you have more than one account profile, choose the one that is connected to

G Suite

.

Your data will be automatically synchronized.
If you've chosen to link your
G Suite
account
to an existing profile
while choosing your
profile, it will automatically sync.
If you selected the resources to import, the data will be synchronized bilaterally - Outlook account data sent to the
G Suite
server
and a
G Suite
account
created and synchronized with Outlook.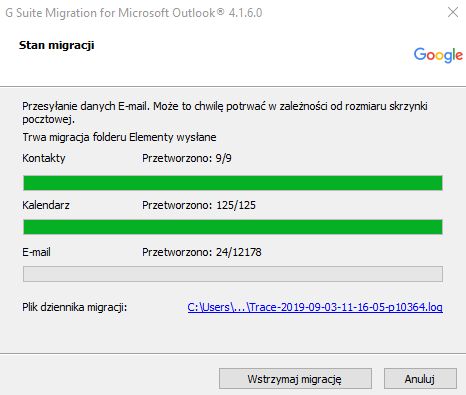 Export contact from Gmail to Outlook
Go to your

Gmail account

.

Select:

Gmail> Contacts

.

Then click:

More > Export

.




Click the contact group you want to export.

Select the type of export:

Outlook CSV

.




Click:

Export

.

In the pop-up window, select the option:

Save as

to save the exported file with Gmail contacts.

Choose your preferred location to save the file.
Import contact from Gmail to Outlook
Go to Microsoft Outlook to import contacts:
After starting Microsoft Outlook, click the

File

section

.

Then select the option:

Open and export> Import

.




Click:

Import from another program or file> Next

.




Click:

Comma Separated Values> Next

.

Browse to the file to import from your computer.

Select the destination folder, i.e.

Contacts,

and click:

Next

.




Click:

Finish

.