This means that you can route email from the
domain
:
to the

server

at home.pl

other mail server (using MX records)

to another email address.

or disable mail support for the selected

domain

.
For example, you can assign a domain to the server at home.pl to handle mail created on this server, while web traffic can be redirected to a page published on an external server (or vice versa).
After setting the mail forwarding, all email traffic in the configured domain will be forwarded according to the set configuration (mail forwarding in the domain will cover all email addresses in the domain).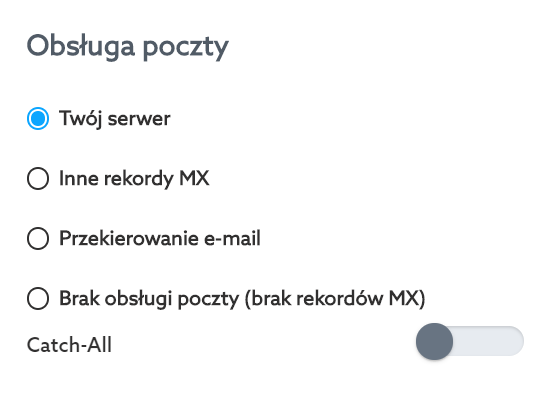 To change mail forwarding, select the forwarding type:

Your server

- select this option if all email traffic in your domain should be directed to the

server in home.pl

to which the domain has been

assigned

.

E-mail boxes created on this server will be able to use e-mail addresses in the form, e.g.: kowalski@yourdomain.pl.

Other MX records

- select this option if you want to direct all email traffic in your domain to another external

server

.

Enter the addresses of the mail servers to which the mail should be forwarded in the fields below.

You can enter up to 4 email server addresses.

When adding addresses, you must specify priorities for mail servers, e.g. 10, 20, 30, 40.



After clicking the

Send

button

, the domain settings will be saved.

Wait a few minutes for the

server

settings to refresh

.

If after clicking the

Send

button, the following

error message is displayed: "

An error occurred while assigning the domain to the server.

No delegation to the provider's DNS servers

, it means that you are trying to change the settings of

an external domain

that has been

added to the home.pl Customer Panel

, but has not yet been

delegated to the home.pl DNS servers

.

If you have already done the delegation to the appropriate home.pl DNS servers, then you must wait for the DNS servers to refresh (it takes up to 30 hours).

After this time, perform the

domain

assignment operations

for

hosting

again.

If you have not already

delegated the domain

, then perform this operation through the administrative panel of the operator with whom the domain is currently registered.